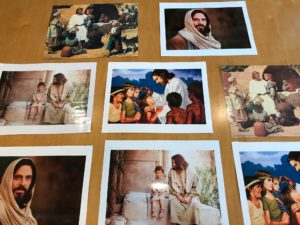 Gather pictures of the Savior, two of each picture so that there is a match.  Post them at the front of the room.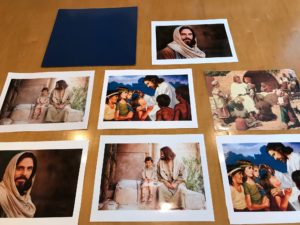 Cover each picture with a darker piece of paper.  The children will be lifting up the darker piece of paper to see if the picture under it matches with another picture they also lift up the cover to see if they match.  If the pictures match, they take off the cover.
Tell the children
"Each of these dark pieces of paper have a picture underneath.  There are matching pictures, but you will need to find them.  I will tap one of you on the shoulder to come up, lift up two of these, trying to find the matching pictures.  If they don't match, just put the dark piece of paper back down.  If they do match, we get to take it off and see the matches!"
Start singing and tap a child on the shoulder.  After he has lifted two dark pieces of paper, he sits back down and you tap someone else on the shoulder.  Make sure that the rest of the children can see the pictures as the dark piece of paper is lifted so they have a chance to remember where it is.
With young children, I only put 4 different pictures up (so 8 in all).  With older children, I put up at least 6 different pictures (12), so that it is more complex for their memories.
Sing the song over and over again as they lift the pictures and try to find the matches.
This activity gives the children a chance to test their memory of different pictures of the Savior, unconsciously linking those pictures to the song you are singing.  It gives them a chance to hear the whole song over and over again while being engaged in a challenge.  Because they are engaged, the words to the song are coming in the "back door" of their memory!